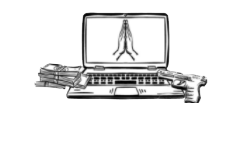 04 Dec
What are you all about?
Branding yourself online means choosing an idea that you're going to have people associate with you.

Isn't that right? You can only brand yourself or your business if you give people an idea to associate with your brand. Bernie Sanders is known for standing up to corporate America; Jane Goodall is known for her research about chimpanzees; Stephen King is known for horror in his storytelling. There is more to these people than just the one idea each of them is "known for", but the idea is what makes the brand.  No idea, no brand.
Understanding personal branding
The guiding philosophy for FreelancerChurch includes the firm belief that every professional person employed by an organization should make a natural transition into self-employment.  This doesn't mean you need to start a business, and it doesn't even mean you need to sell anything or do any freelance work for private clients.  Making the transition into self-employment means branding yourself online and using your skill and experience to create something new. It's okay if you keep working as an employee for the rest of your life, as long as you have the ability to do business for yourself if you want to. And how can you gain that ability?
Begin with a meaningful idea. 
The idea that is the foundation for your brand should be meaningful to you, and it should also be meaningful to the people who will be your customers and anyone you employ or affiliate with in the future.  Making your brand feel meaningful to people requires some careful consideration.  If you want to start an online store where you accept custom orders for your artwork, that is inherently meaningful to you, but how can you make it meaningful to other people? The Internet is full of websites where artists are trying to sell their work, but those websites don't get any traffic because the artists are not promoting a meaningful idea. One of the most important ideas to consider when trying to build a brand is the idea to infuse your brand with a key idea that people can associate with it.  I call this key idea a "theme".
Your brand needs a theme.  What are you all about?
How would you define the word 'theme' if a little kid asked you what that word meant? When I say your brand needs a theme, I'm talking about one big idea that is at the foundation of your brand.  Saving the planet? Improving the quality of education? Improving community health? Fighting hunger?  WELL, those are all great, but your brand can still be meaningful even if it is not aligned with such lofty goals. Uber is meaningful because it improves life for a lot of people who cannot drive cars, and it provides a realistic alternative for people who would otherwise drive home from the bar intoxicated. Even if you just want to open a pizza restaurant, you can make it meaningful by offering a great pizza recipe that isn't available at any other pizza places in town. Providing a great product, service, or restaurant is meaningful for the same reason it is competitive in its industry: Because it gives people something they like.
Your brand is already meaningful, as long as it can make the world more interesting or enhance people's lives in some way.  If it's just all about exploiting people and doing harm, then maybe you don't have such a meaningful brand.  But if you maintain ethical practices, you will be able to find the meaningful contribution associated with your brand.  If you forget about the meaningful theme and try to create a brand only with an idea to sell people products and services, that might not be the best approach. The best approach is to write some promotional content about why your idea is meaningful. Branding yourself online, you'll inspire yourself along with everyone in your target audience.
Choose a brand name by putting two words together. 
After you have identified the key idea that makes your brand meaningful, you can choose a name for your brand.  I'll tell you how I like to come up with a name for a brand: Put two words together to make a new word, and that new word is the name of your brand. It's a good idea to make sure your brand begins with a word that people in your target audience are likely to search.  For example, FreelancerChurch begins with the word 'freelancer' because I want it to be found by people interested in freelancing. What two words can you put together to express the big idea that is the foundation of your brand?
Choose two words that are not often used together. Don't use BucklesBelt as your brand name, because those terms "buckles" and "belt" are already used together in a million different ways online. Likewise, don't choose UniqueGifts as your brand name, because those two words are used together a lot in the Internet. If you name your brand with two words that often appear together, it will be difficult to get your content to appear on the first page of search results when people look you up with a Google search.  Instead, when branding yourself online, choose two words that are not often used together ("ReliableTutors", "FashionNova", "CollectiblesCorner") you'll come up at the top of the list when people search for your brand name.
Another reason to use two words that are not often used together is because it generates some irony.  Irony is the active ingredient in comedy, and it elicits that mysterious sound humans make when they're amused.  "Hah! Hah hah hah." If your brand name is even a little bit amusing, it will give people a good feeling instantly. That's why some day I'm going to open a grocery store called 'food yummy'.
You might write a book, or start a blog, or simply create a FB business page.  You might do some consulting work, or you might offer some other service.  You might start a Youtube channel.
You can share content in any way you prefer, and you will be branding yourself online in a meaningful way as long as you stay focused on your theme.  I work with a team of writers who created FreelancerChurch and BossContent, so this blog about personal branding is aligned perfectly with the theme for our brand. Our brand is all about creating content to help people improve their lives. It's meaningful, because when we help people build new brands we're making the world more interesting, strengthening the economy, and helping our clients achieve their goals.
OKAY, I guess we covered everything.  The secret is that when branding yourself online, it's not all about you.  It's about the IDEA that you are all about.  That's worth thinking about.  And when you know the idea that you want people to associate with you, the next step is to identify all the ways your idea is meaningful. Then, choose a brand name that helps to express that idea.  After that, you just have to create a lot of great content about your idea. Usually, that means writing or making video content.  If you want some help, email LetsDoIt@BossContent.net and we'll create some content for your brand full of keywords that will help you connect with the people looking for those specific things you have to offer.