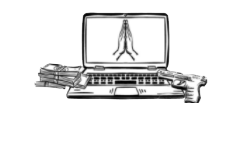 23 Jun
You have 24 hours to name your brand. Ready, set, go!
It can be your name as an artist, musician, or band; it can be the name of your online store or seller account; it can be the name of your blog, discussion forum, or Youtube channel.
This guided mediation can send your person into a great state of mind, so you can feel inspired while you work on your brand:

Today choose a name for your brand.  Tomorrow morning, give it some more thought and decide if you still like the brand name you chose.  Years from now, if you decide you don't like it you can start a new brand.  So, there is no need to be a perfectionist.  Your brand does not define you.
If you've already chosen a brand name, email me right now at LetsDoIt@BossContent.net and tell me about it.  I'm not going to critique it or give advice; I want to know about your brand because it'll give me ideas for my own projects.  This is the stuff I get excited about, because…
When you choose a name for your brand that's when your project becomes REAL.
Your idea stays vague and unclear until you choose a brand name. You cannot start a blog about it, build a website, or post an advertisement, because you don't even know what to call it!  But after you choose a brand name, everything changes.  You will think about it more clearly because you'll have a word for it in your mind.
A few considerations:
It's good to include a search term in your brand name.  Think about your target audience. What do those people search for when they're trying to buy the product or service you sell?  If you're starting a roofing business it's helpful to choose a brand name that includes the word "roofing". That way, you're more likely to appear in the search results when someone searches google for roofing services. Get inside the mind of the person searching for what you sell. What does that person search for? S/he probably searches for the word "roofers" or the word "roofing" and also includes another search term: A nearby city.  The customer wants to find roofers who are local, so s/he types this into google: roofing, [name of city].  Therefore, if you live in Boston you might do well with a brand name Boston Roofing Guru. You can go to Godaddy.com and buy the domain BostonRoofingGuru.com (if it's not already taken), and you'll be likely to appear in the search results when someone searches for: Roofing, Boston
Keep the brand name short, if possible. In the example above, we mentioned the brand name BostonRoofingGuru.  It's pretty cool, but it's too long. A better brand name might be "BostonRoofGuru". That has a nice rhythm!  Too bad it doesn't include the search term 'roofing', though.  Still, the word roof is also very good for getting visibility in searches about roofing and roofers.  It's best to keep the brand name short.  You could also remove the word Boston and get the brand name "RoofGuru".  That is excellent, and even though it does not have the search term "Boston" it's okay because you can include Boston in your tagline and make sure people see it right away.
Random: The original name of Facebook was "The Facebook" but they shortened it.  So, that's an example. For prestige, search visibility, memorability, and other reasons, it's great to keep the brand name short if possible.
Try to think of a brand name that is unique. Continuing with the example above, let's consider dropping the word 'guru' and simply calling our company "BostonRoofing".  That is not very unique.  Lots of search results come up when you type those two words into a google search.  You want to be able to run an ad campaign and tell people, "Check out my brand with a Google search," so they can search for your brand name and see a whole page full of search results all about you.  If you tell them to search for "BostonRoofing" the results about your brand (your website, blog, social media accounts) will be hidden among all the other Web content about "Boston" and "Roofing".  HOWEVER, if you get the brand name BostonRoofingGuru and someone searches for it, you'll appear at the top of the list because your brand name will be most relevant to the search terms.
Another example: If you choose "CrazyArt" as your brand name, it looks pretty cool but you will not come up at the top of a google search.  Lots of people are using the term "crazy art", so it will be difficult for you to get your brand up to the top of the research results for anyone who searches for your brand name: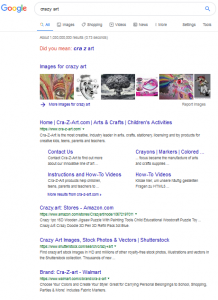 Instead of CrazyArt, maybe you can get more specific and include a term that tells people what kind of art you do.  The digital age is a time of specialization and specificity.  If you're an artist who specializes in art for home decor, you can play with brand name ideas like CrazyHomeDecorArt.  Way too long. And when you look at it, you realize that people actually might not be searching for the word "art" at all. The artist things of it as art, but the consumer thinks of it as home decor.  The brand name CrazyHomeDecor is kind of interesting.  And striving for brevity, we can perhaps shorten it to CrazyDecor.  That has an important search term "decor", it's brief, and it's compelling enough for someone to click on it.
Most importantly, forget all this stuff.
Forget the advice above, because it's just going to get you blocked.  Choose ANY brand name that feels right. Some of the best brand names have nothing to do with the product, service, or search terms. People love things that are quirky and original, and they don't like lifeless, unoriginal brand names made of keywords. Don't get hung up on the idea to follow anyone's advice about keywords.  Choose a name for your brand, and take the first step.
What is the first step?  Write something.
Type a few sentences about your brand. What is cool about it? Type a few sentences, and these sentences can be JUST for you.  Get it straight in your own mind.  Don't worry about describing your brand perfectly.  Just type a few sentences that explains what it's all about – the same way your customers will explain it to their friends when they are recommending you. Example:
"BossContent is a team of online publishing & promotion experts from Boston who specialize in Language Psychology.  They are qualified for doctoral level research, so you can expect that they're write highly credible articles about your business or brand."
The idea is to write a blurb that explains your brand in a concise way.  Sometimes in business school this is called an 'elevator pitch', and it means a sales pitch you can say to someone in the few seconds it takes for an elevator to bring you both to the next floor. Saying "It's a roofing company," is not enough because it doesn't give the person anything to remember other than "this guy is a roofer".  A better way to explain it is to say:  "It's a roofing company that specializes in spilling industry secrets. When you hire us, with your permission we will create a blog post about the job and we'll use it as an example to help us explain tricks of the roofing trade."   It doesn't matter what idea you use for setting your company apart from the competition, as long as your idea give people something to remember about you, and some way to explain your brand to their friends.
If you're not a strong writer, then type a few sentences about your brand and click over to our BetterWayToSay page where you can send it to us and have THREE writers transform it into high-energy content.  Lots of people are blocked against writing, but that doesn't need to hold you back from building a brand.  Send your idea to BossContent, and we'll get you started.