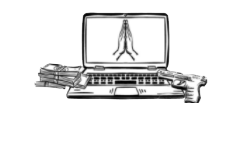 19 Dec
Search Google for the name of your brand. Do you see any of your blogposts or social media accounts on the first page of the search results?  That's your web presence.
When people search for your name or the name of your business, we want them to see a lot of impressive search results.
I struggled as a freelancer, doing work subcontracted to me by brands that had found the way to get the conversions, get the gigs, and source them to people like me who didn't know how to get gigs.
But at some point, I understood the way to build web 'presence' and use it to get clients. I needed to stop thinking about what search terms my audiences used when searching for services like the ones I offer, and for a moment think about what they see when they search for my brand name.
Here's my method:
Publish content using your brand name, and then tell people to search for your brand name.
Step 1. Start a blog, and the name of the blog should be the name of your business or brand. Spend a few weeks to publish blogposts with useful information for your audience.  Start a FB Business page and other social media accounts, and use your brand name in the titles of all those pages.  Be sure to include a YouTube account, and you can use screencast-o-matic to make some videos.
Step 2. Post a few classified ads in the places where people look when they want to hire someone like you.  Reddit? Craigslist? Yelp? Thumbtack? Angie's List? Upwork? Guru?  Those sites are all good for helping you sell services you offer.  If you sell products, then make listings on the sites where people search for those products.  Maybe it's Amazon, but if you're on point with your Amazon game you can get a lot of buyers to start doing business with you directly rather than through Amazon.  Now here's the important part:  Make sure your classified ad or item listing includes your brand name.  Include this sentence:  Check out my brand, "NAMEOFBRAND", with a google search!
If you use this strategy, your clientele will quickly grow.
Why it works:
When you tell them to search Google for your brand, it makes them feel curious. They see you enthusiastically suggest that they check out your brand with a Google search, and of course they like this idea.  It's smart to research a seller before spending money.  Plus, you have peaked their curiosity – "Why do they want me to search for the brand name?  What is it they want me to see?"  But as soon as they search for your brand name, it's a done deal.  They are very likely to choose you and try your products and services.
Checking out your brand with a search makes the person more invested in doing business with you. It's easy for someone to do a quick google search for your brand name, but in the moment they spend to search for it they are investing more time – becoming more psychologically invested in doing business with you. They're only going to spend a limited amount of time trying to choose from among you and your competitors, so it's kind of a big deal if they spend a few extra moments thinking about you.
Checking out your brand with a search also establishes a "contract" in the person's mind.   If they decide to check out your brand with a search, it means they're considering you and planning to based their decision on whether the search results seem impressive or not. You have already published smart blog posts and video content, and you have a few social media accounts for your brand, so it's clear you are the real deal.  At that point, it wouldn't' make sense for them not to try your brand.